Meet Dick Scorzafava "The Radical Hunter"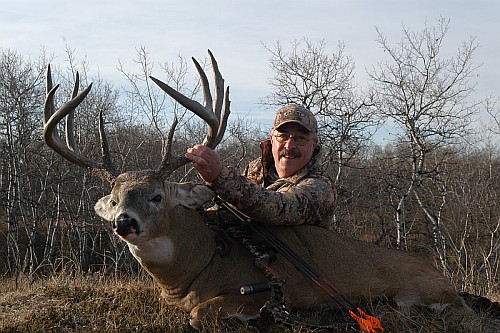 Well known "Radical Hunter," Dick Scorzafava is coming to the Springfield Sportsmen's Show! Dick will present his Radical Hunting Success Seminar, introduce his Signature Series of hunting products, and as always be on hand all weekend to sign books for his many fans.
You may have seen this prolific author and avid hunter on TV in Knight's Born to Hunt or Explorers Big Game Journal. Dick Scorzafava is, "The Radical Hunter."
Now Dick is on a new show appropriately named, "The Radical Hunter," which you'll find on the Sportsman's Channel.
Dick is an extreme big game hunter with an amazing track record of success. It is this success that has led him to become a world renowned expert in the field of sport hunting.
Dick is a leading authority on how to take down all types of wild game from deer and bear to more exotic species like African Sables and Zebra.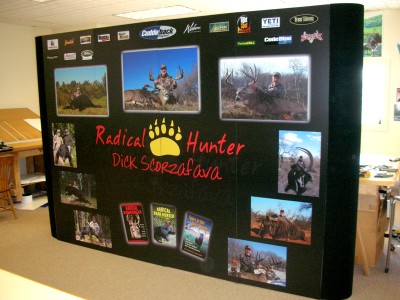 As you go through the isles of the Springfield Sportsmen's Show, keep an eye out for Dick's New Booth (Shown on the right). It is filled with photos from his many hunts and it should be easy to pick out from a distance.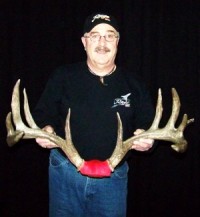 Dick Scorzafava's level of expertise is extensive and as an authority on all forms of hunting, Dick is a highly sought after speaker. Nationally known, Dick puts on over 75 lectures throughout the country on how to hunt for whitetail deer and black bear.
Dick enjoys sharing his vast knowledge and is an active member of the Outdoor Writers Association of America and the New England Outdoor Writers Association. Dick has written more than 1,000 articles for national magazines.
With so much time spent in the woods, it is amazing that Dick had the time to write so many articles, but he has accomplished this and much more. Dick Scorzafava has not one, but three books to his name! Shown below, Dick's books are titled, "Radical Bowhunter," "Radical Bear Hunter," and "Spies in the Deer Woods."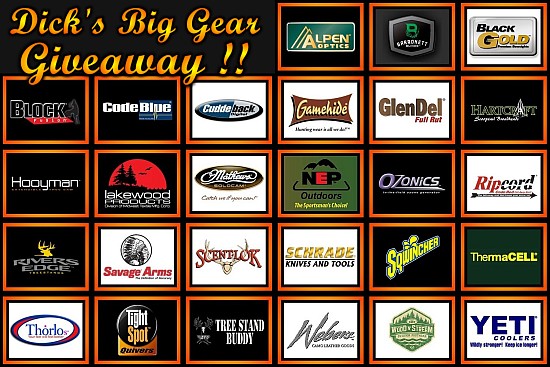 Dick's reward for building a solid reputation as a master outdoorsman has lead him to become a Pro-Staffer for the industries biggest names in hunting equipment including Alpen Optics, Barronett Blinds Black Gold, Block Fusion, Code Blue, Cuddeback, Gamehide, GlenDel, Hartcraft Broadheads, Hooyman, Lakewood Products, Mathews Solocam, NEP Outdoors, Ozonics, Rip Cord, Rivers Edge, Savage Arms, Scentlok, Schrade Knives, Sqwincher, ThermaCELL, Thorlos, Tightspot, Tree Stand Buddy, Webers, Woods and Stream, and Yeti Coolers.
Your reward for Dick's hard work and of course the generosity of his many sponsors is what we like to call, the Big Gear Giveaway!

During his seminars Dick gives away a tremendous assortment of hunting gear and special prizes to attendees.
In addition to Dick's seminars, he will also be introducing his all new Radical Hunter Signature Series of bear hunting products.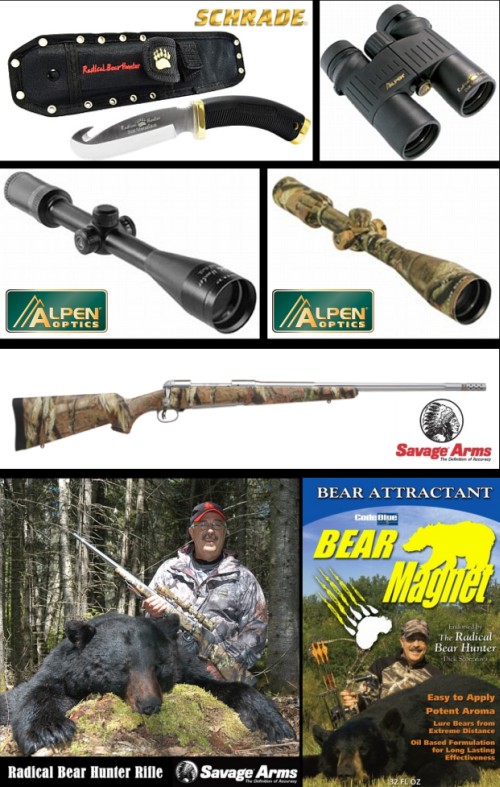 Here is the line up:
Show attendees will be given the opportunity to see them up close and speak with Dick.
To learn more about Dick Scorzafava, be sure to visit his websites:
http://www.radicalbowhunter.com/
http://www.spiesinthedeerwoods.com/
http://www.theradicalhunter.com/
Massive Manitoba bear

Incredible Manitoba Moose.
Over 51 inch spread and about 1400 pounds!

Dick Scorzafava is "The Radical Hunter" !!