Joe Judd
We are proud to have nationally known wild turkey calling expert, Joe Judd with us at the Springfield Sportsmen's Show. This award winning turkey caller has perfected his craft over 35 years of hunting and is highly regarded as an expert in the field. Joe is a member of the Quaker Boy Pro Staff and he is also a member of the hunting Pro Staff for Alpen Optics.

Having served three times in the past as the Massachusetts NWTF Chapter President, Joe is committed to furthering the goals of the NWFT and he is highly dedicated to spreading his knowledge on hunting to others who love the great outdoors.

Joe's journey as a sportsman began at the young age of 10 years old while following his father and grandfather through the woodlands of the northeast. He quickly took to the sport of hunting and by the age of 18 was deeply entrenched in the entire outdoor scene.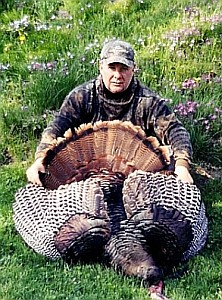 In 1976 while turkey hunting during the early years of Vermont's turkey hunting programs Joe met Dick Kirby who had just founded a company called Quaker Boy Game Calls. Ten years later, with much success and knowledge having been acquired by both men, Joe was asked to join the now prestigious pro-staff of Dick Kirby's company and thus another segment of his outdoor career had begun.
Since that time Joe has traveled throughout the country working with the Quaker Boy staff producing outdoor videos, instructing at seminars and clinics while at the same time honing his own outdoor skills along the way.
Joe has pursued everything from Maine moose to Alabama mallards. He has appeared on the Quaker Boy Video Series and has assisted many celebrities as well as countless sportsmen in their turkey hunting adventures. His expertise as an "Over the Edge" turkey hunter is well known throughout the northeast.

Joe is the host of his own Western Massachusetts based TV show, On the Ridge, and a 30 year Outdoor Writer of his column by the same name (On The Ridge). He has traveled across the country hunting turkeys in over 20 states. He is also an avid whitetail deer and coyote hunter.
"It's the challenge that lies within the wild that truly calls us to become sportsmen.

Through this challenge and the entire outdoor experience, we can find the truest essence of nature, and many times we will also find the essence of ourselves."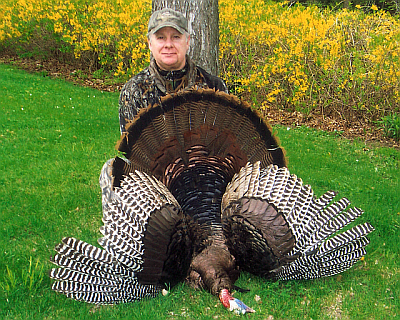 In 2013, Joe was the recipient of the prestigious Roger Latham Award presented by the National Wild Turkey Federation. This National Honor is the highest commendation given to a volunteer member by the NWTF.
If you love hunting wild turkey, don't miss out on meeting Joe Judd.