Dean Vanier


Dean Vanier of North Woods Hunting Products will be at this year's sportsmen's show.
Dean is a TEN POINT & PSE Pro Staffer.
If you are looking to stack the odds in your favor during the upcoming deer season, be sure to seek out Dean and learn more about North Woods Common Scents and how he uses them to stack the odds in his favor when he is out in the woods. Extensive deer hunting knowledge in combination with North Woods Common Scents is the formula that Dean attributes to his success in the woods.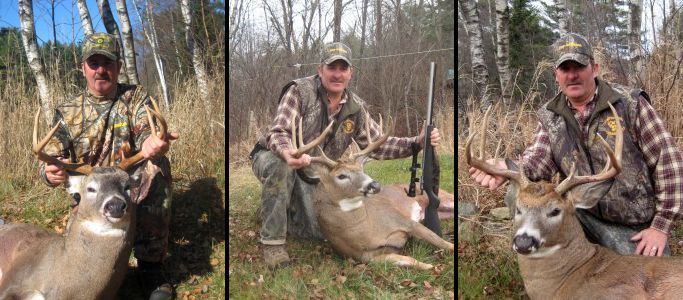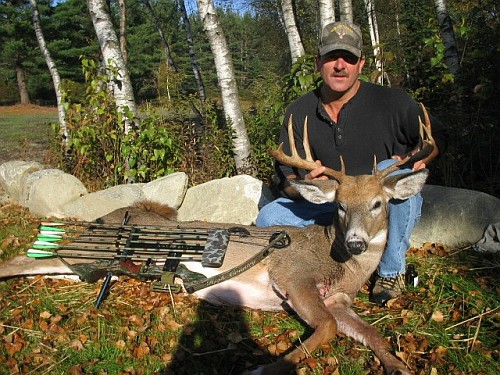 Dean is an incredible outdoorsman who is known for presenting a great hunting seminar. During his in-depth talks, Dean teaches how you gain a significant advantage when hunting Whitetail deer. His unique perspective on understanding and beating the Whitetails superior defense mechanisms and using them to your advantage will increase your odds of success in the deer woods.
Dean knows all about deer calls and how and when to use deer scents. His expertise in deer scents led him to develop his own business called, North Woods Common Scents. By utilizing common scents of the north woods, like earth, apple and pine along with many deer urines, Dean was able to create a specialty hunting product that is currently in high demand.
North Woods Common Scents
Dean has built a loyal following of fans since establishing North Woods Common Scents.
In business now for over 25 years, his deer urines are 100 percent pure and undiluted and are considered by New England Hunters as New England's best kept secret.
Having been distributed in Vermont, Maine, and New Hampshire, the Vanier's intend on expanding their business into Massachusetts, Connecticut, and New York.

Dean insists that hunting in the future depends greatly on the youth of today. He feels strongly that it is our responsibility to pass on this great tradition. He consistently takes time to talk to kids. He enjoys giving out hats and pictures and is always looking for that sparkle in their eyes and that sense of excitement and anticipation when he shares his knowledge of hunting.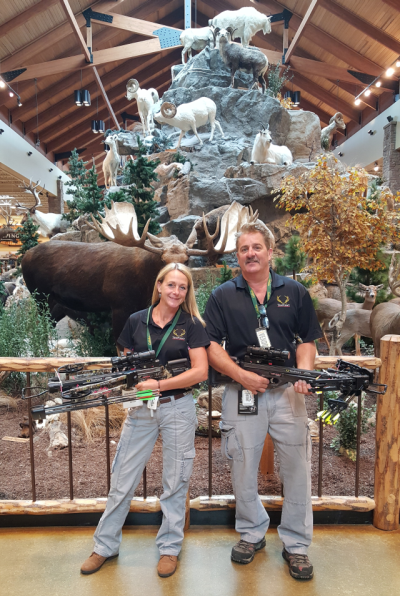 Born and raised in Vermont's Northeast Kingdom, Dean began chasing the whitetail at the early age of 11 and started bow hunting at 13. Making his own cover scents and trapping at an early age, Dean learned that if you could beat the animal's defense systems that you would be well on your way to putting meat in the freezer.

After enlisting in the army at 17 as a combat engineer and stationed in Fort Campbell Kentucky, Dean finished his term and started his business North Woods Hunting Products.

Now with over 35 years hunting experience, Dean enjoys sharing his wealth of knowledge. He has been a featured speaker at the NH fish and Game Department, Vermont's Yankee Sportsman's Classic, New Hampshire's Rockingham expo, Maine's Pine State Classic and our show.
During the year Dean and his wife Rachelle travel throughout New England attending hunting shows, dinners and NRA banquettes.
Dean says his wife Rachelle is his best Pro–Staff member.
(Good Thinking Dean)
His passion for the New England woods and the whitetail deer has given him tremendous insight on how to consistently keep that prized New England Gold ( Venison ) in your freezer and hardware on the wall to hang your hat on.

Don't forget to stop by and See Dean & Shelli at their booth and pick up your North Woods Woods Deer Lures for the upcoming Deer Season. 100% pure, undiluted. North Woods is a proud National Sponsor for Whitetail's Unlimited.

To learn more about Dean and his business, please visit his web-site at http://northwoodscommonscents.com.